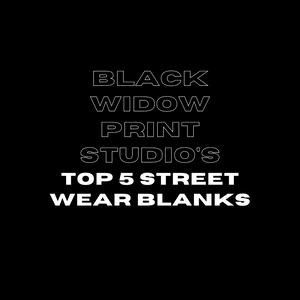 Our Top 5 Street Wear Blanks
We often get asked for recommendations for blanks that embody that street wear flare and fit. Our answers vary depending on a few factors; before we answer that question we ask our customers to consider the following before deciding what blank to print on: What's trending in street wear in your region? What price range are your customers willing to pay for one of your shirts? What is your budget? After taking these questions into consideration and getting answers from our customers, we then provide suggestions. Typically, we are able to boil it down to one of the following.
Below are our top five recommendations for street wear blanks along with some specifications. (Note: These are not in any type of order; they are listed at random. Model is wearing size Medium and is 5'10.)
1. Los Angeles Apparel 1801 GD has a regular fit while the neck sits higher than an average shirt. This shirt is 6.5oz and while Los Angeles Apparel states it "is virtually shrink free," we do experience some shrinkage depending on your dryer's heat setting. 
2. Rue Porter oversized Ultra Luxury Tee is 10.5oz and preshrunk. We recommend washing with delicates and hanging dry for a longer lasting wear. This blank has a boxy fit and it is recommended to size down for a more standard fit. This is by far the most sought after blank on the market for brands who are at a higher price point. 
3. AS Colour Staple Tee 5001 is 5.3oz and preshrunk; regular fit. Model noted that this blank had the best fit and feel of all. In addition, we have experienced this shirt to hold up nicely after several washes. We do believe it is the softest of all as well. 
4. Cotton Heritage MC1086 is 6.5oz. Model noted that this blank was quite fitted and long as you can see in the picture below. Cotton Heritage does not state whether it has been preshrunk. It does however, state that these blanks have been soft-washed which mean they undergo a washing process using an enzyme to give the fabric a more softer feeling. 
5. Shaka Wear Max Heavy Weight is 7.5oz. Model noted that it felt stiff yet durable. It is unknow whether these blanks have been preshrunk. We do like that there are standard sizes and tall sizes which most blanks do not offer. 
What is your favorite from this list? Let us know if you have other recommendations in the comments for us to sample.
---